With our motto "always challenging," HibiiX provides the following core services:
A decision-based support system for real estate transactions
Consulting and support for real estate business competition
Assessing investment prospects and a value estimation of SPC (Special purpose companies, vehicles concerning securitization)
A simulated composition of profitable properties
Profitability analysis of large leasable buildings
Consulting and evaluation of corporate real estate in regards to CRE management
Planning composition and business propositions with regards to PFI
Consulting on creating real estate portfolios etc., with regards to public accounts
Provide effective solutions for unused real estate
Designing structures for real estate projects
Drafts for the holding of real estate, revision of distribution costs and costs reduction
Decision-based support for the sale of owned real estate, leaseback and effective utilization
Price simulations by DCF method
Proposing ways to resolve bad debts
Real estate market valuation and corporate evaluation related to M&A
Marketing survey operations
Feasibility studies
Survey of the apartment market
Support for acquiring green buildings certification
HibiiX provides accreditations for environmental real estate by the requests of building owners. Also, in the case where an application to a foreign environmental real estate institution is required, our well-experienced staff will actively support you.
The main evaluation standards and institutions for acquiring of environmental real estate labeling certification are as below.
LEED
(The Leadership in Energy and Environmental Design)
An authentication system managed by the non-profit organization, the U.S. Green Building Council.
BREEAM
(Building Research Establishment Environmental Assessment Method)
A system which an English architectural research group formulated and utilizes to evaluate environment efficiency.
green star
An environmental efficiency certification system based on building design specifications developed and managed by the Green Building Council of Australia.
UNEP – SBCI
(United Nations Environment Programme-Sustinable Buildings and Climate Intiative)
The real estate and environmental standards within the United Nations Environmental Program. As an organization of the U.N, they comprehensively regulate various activities in regards to the environment and aim to promote international cooperation towards new problems. If there were no global indices, the real estate market would be in disarray and would hinder the advancement of sustainable buildings; with this in mind, they provide a consistent framework on a global scale that covers energy, greenhouse gas, water, utilization of resources, interior environmental quality, biodiversity and economy.
CASBEE
(Comprehensive Assessment System for Built Environment Efficiency)
The "CASBEE・ real estate market edition" was created in April 2001 by the Ministry of Land, Infrastructure and Transport for housing assistance. It is an evaluation system which grades the environmental efficiency of buildings in a joint industry-government-academia environmental research committee.
GRESB
(Global Real Estate Sustainability Benchmark)
A comparative index which is calculated by the sustainability of real estate companies and managing organizations (by portfolio) established by a European pension funds group. Also, it is supported by Japan's Association for Real Estate Securitization.
DBJ (Development bank of Japan)
Carry out grading towards real estate financing with a unique green building certification.
Consulting and evaluating management within the corporate real estate, CRE and the public real estate, PRE
HibiiX actively provides consulting support for effective utilization of corporate and public real estate.
As for the corporate real estate, we aim to maximize the values of real estate and the company by managing the work process of investment properly.
As for public real estate, we aim to counter the deterioration of public facilities, the increase of un-utilized land and the reduced usage of public property due to low birth rates with the effective utilization and management of real estate.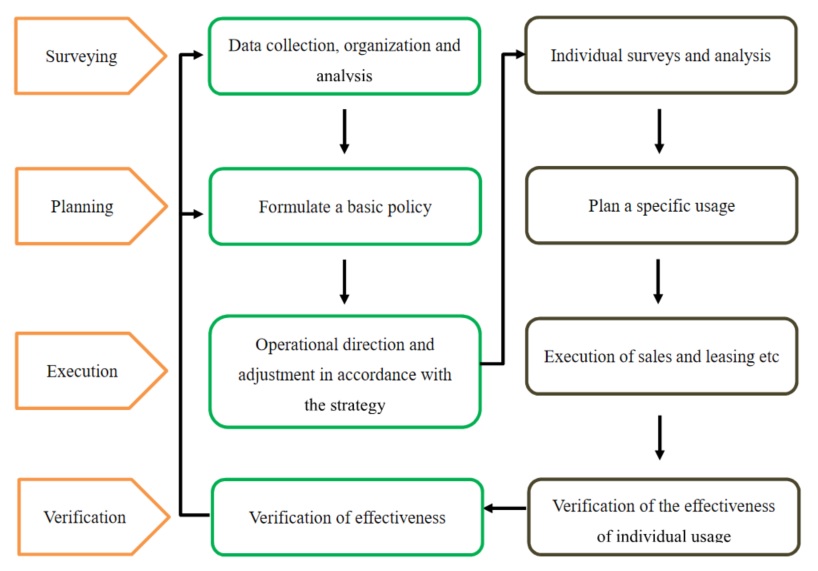 HibiiX grasps the location, the number of properties and price information based on changes surrounding the real estate and then analyzes, evaluates and estimates future demand. After confirming strategic management, we develop a real estate management system and introduce it to the general public and public organizations.